Expert Solar Installation Contractor
Reasons to Go Solar
Cost Savings
What's the number one reason to invest in solar installation? It pays for itself! Plus, there is currently a federal tax credit available. The Solar Investment Tax Credit (ITC) is available to homeowners and businesses for up to 26% of the qualified expenses of solar installation. These expenses include labor, project preparation, and system equipment and components.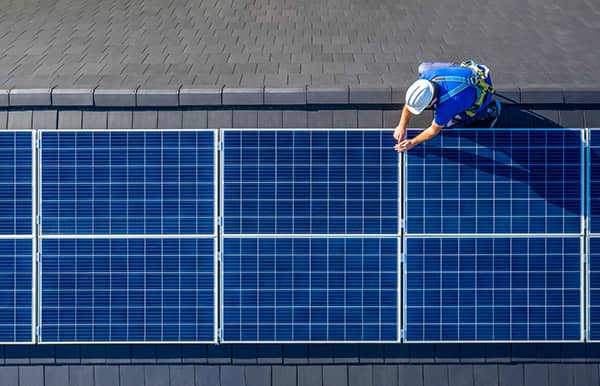 A federal tax credit is different from a tax write-off and is more valuable to the taxpayer. A tax credit is a dollar-for-dollar reduction in federal income taxes owed. Currently, this solar tax credit is set to expire at the end of 2022, so now is the best time to go solar. We also offer additional financing options to make your upgrade as economical as possible.
Drastically Reduce or Eliminate Energy Bills
Whether you're a homeowner, business or nonprofit, electricity costs can make up a large portion of your monthly expenses. With solar installation, you'll generate free power for your system's entire lifecycle, which should be 25 years or more. Even if you don't produce 100 percent of the energy you consume, solar installation will reduce your utility bills and you'll still save a lot of money.
Increase Property Value
Multiple studies have found that homes equipped with solar energy systems have higher property values and sell more quickly than non-solar homes. Appraisers are increasingly taking solar installations into consideration as they value homes at the time of a sale, and as homebuyers become more educated about solar, demand for properties equipped with solar panel systems will continue to grow.
Protect the Environment
Solar installation is a great way to reduce your carbon footprint. Buildings are responsible for 38 percent of all carbon emissions in the U.S. and going solar can significantly decrease that number. A typical residential solar panel system will eliminate three to four tons of carbon emissions each year—the equivalent of planting over 100 trees annually.
We also offer additional financing options to make your upgrade as affordable as possible. Now is the time to go solar!
Contact Us Today for a Free Estimate
(833) 977-7663 would be happy to discuss your solar installation needs and offer you a free estimate for a new solar panel system. Call us today at (833) 977-7663 or, for a quick response, submit the online contact form.